Rena Jackson Guttridge SRN
Founder of The Healer Foundation 
Tutor and Practitioner: The 5 Awakenings Sequence® – a treatment for trauma in children and adults. 
Deputy Chair: British Complementary Medicine Association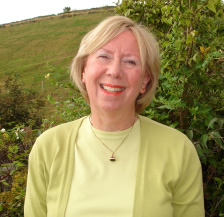 Welcome note
Rena is the Originator of the trauma and stress release process – The 5 Awakenings Sequence® . This is a reliable and gentle technique that combines energy medicine and the body's own energy resources with colour drawing.  
It erases the debilitating effects of trauma and is suitable for use with both adults and children.
Rena's experience spans over 30 years and she advocates that trauma and abuse in childhood does not have to be a limiting, lifetime experience.
Her work offers an enduring, healing process of freedom and release.
The sequence has a history of success in cases of trauma, phobia, fear, abuse, bullying and PTSD.
Rena hosts and offers treatment at 'How To' day classes and one to one sessions in Ripponden, West Yorkshire
One to one sessions for children under the age of 10 are offered free of charge. Details of other fees and classes at www.the5awakenings.co.uk
Testimonials
"I have now very successfully worked on 5 people using the trauma release and also another child being bullied to great effect. The first child is doing magnificent and I get regular updates; it has made a remarkable change in his life." 
Wendy Logan, Practitioner
"This class is a must do. So powerful. Changes lives. I use it with families all the time."
Dr Alweena Awan PhD
"Rena thank you so much for teaching me this great tool"
"The decision to do this class is really one of the best I feel I have ever made"
"The class was uplifting, joyful, and inspiring- thank you"
"Thank you so much for all your support and teachings! It was such a gift to sit in your workshop and have the wonderful personal interactions. I will truly enjoy the work and am excited to share it with the world!"
"The course not only met, but far surpassed our expectations and hopes"
"I have known Rena many years; a wonderful lady who brings something special to every interaction. It might sound dramatic but Rena "brought" my son back. When my 2 year old son broke his femur, whilst at nursery, I "lost" my happy and sociable toddler for almost six months; his entire personality changed. He had night terrors, would cover his face in social situations, got separation anxiety if I left the room and leaving the house was unbearable for him. Rena introduced me to 'The 5 Awakenings' and came to the house, where my son was most at ease. Rena worked through the sequence with him. Less than 24 hours later he was laughing and playing at a family celebration; we had our son back; a day I will never forget. The transformation was unbelievable and I can't express how grateful I am."
"I just wanted to say thank you for the 5 Awakenings session yesterday. When I left your house I felt like a different woman, and my sister said I was glowing! I awoke this morning with no fear, and a new feeling of strength and positivity. I am definitely going to continue with everything you taught me"
Thank you for visiting my web page. 
Please contact me if you feel that I can be a catalyst in your healing process and can help to bring guidance to your life.
Working with Love, Light and Joy 
Rena 
Email: rena.g@colinguttridge.plus.com
Web site: www.the5awakenings.co.uk
www.the5awakenings.co.uk